Boost Signups and Distribute Steam Keys for Your Game's Alpha or Beta Release
Create a viral waiting list for your game that rewards people for referring friends and email Steam codes with a click.
From startups to the Fortune 500
We power the world's most successful referral campaigns.

The Ultimate Game Beta & Key Delivery System
Simple Copy & Paste Installation on Your Site
1. Publish a beta signup form on your site.

Create a beta signup form with no technical knowledge or HTML skills. Installation is as easy as copy/paste.

2. Collect email addresses.

Build a waitlist queue for your game's launch and reward users who refer friends with priority access.

3. Accelerate growth with viral referrals.

Viral referral links and a drip email campaign encourage social sharing and turn one signup into three. On average, we can help you attract 40% more visitors.

4. Invite users and deliver Steam keys.

Delivering the invitation is as simple as clicking a button. We automatically assign the user an unused Steam key from your list.
http://www.clanofkings.com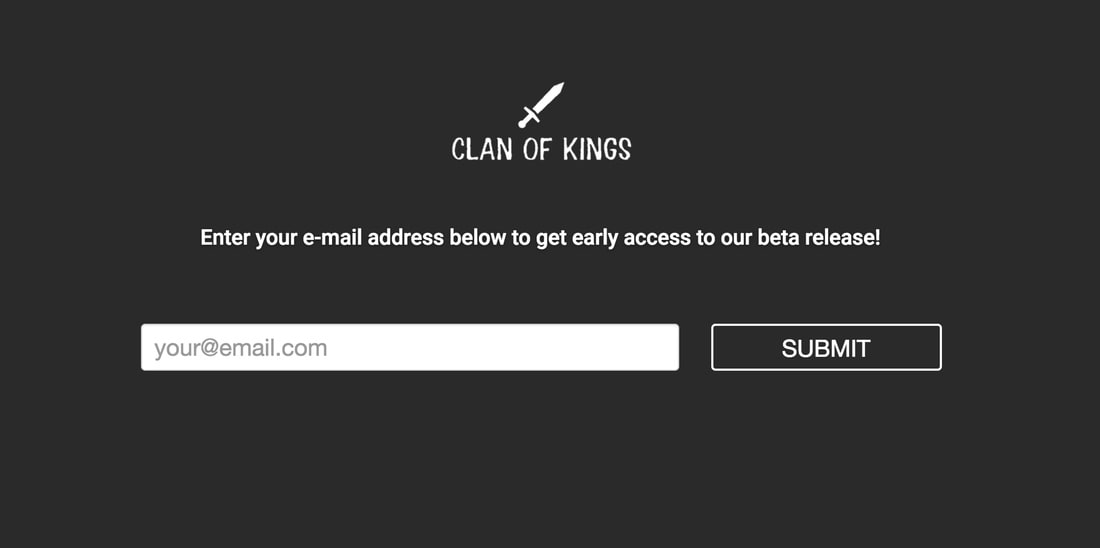 Create a Custom & Unique Launch Experience
Easy for marketers. Powerful for developers.
Stateful User Flow

Track users from application and beyond as they move through the flow from Applied → Invited/Rejected → Active.

Deliver Steam Keys

Upload your list of Steam keys. Delivering the code is as simple as clicking a button.

Invite-a-Friend System

Let your active users invite their friends to your beta. You decide how many friends each user is allowed to invite. Similar to how Gmail launched back in the day.

Advanced Form Builder

Collect much more than just name and email address from your users when they apply for beta access.

Email Automation

Behavior-triggered emails such as a thank you email after applying or an invitation email with a unique code when invited to participate in the beta.

Awesome Analytics

Stay on top of your conversion rate, shares and referrals by channel, and Viral Boost. Plus, open, click and bounce analytics for your emails.

100% Customizable

No other solution on the market is as customizable as Prefinery. Everything that your users see is 100% customizable — from language to design.

Your Language

You can translate everything your users see into your language. 🇪🇸🇩🇪🇫🇷🇧🇷🇮🇹🇹🇼🇯🇵

Mobile Friendly

Responsive elements that look great on any screen size.

Powerful User Segmentation

Search, sort, and filter users by over 55 data points. No other solution lets you dig this deep into your user data.

Data Import & Export

Jumpstart your beta by importing a CSV file of your existing users and take your data with you when your project ends.

Sync with your Favorite Apps

Use our Zapier app to integrate with over 3,000+ popular websites and services.

A Powerful API

You want the power of Prefinery managing your launch, but are a bit of a control freak. No problem. We've got an API for that.

GDPR & CCPA Compliance

Prefinery lets you easily comply with regulatory standards and tracks consent when users submit the Signup Form.

Secure and Reliable — 24/7

Banking quality SSL encryption and an uptime of greater than 99.999% means that you can rely on Prefinery.
The essential element in your growth stack.
On average, our customers boost their leads by a whopping 40%.